Dental Implants

A dental implant is an artificial tooth root placed into the jaw to hold a tooth, group of teeth or denture in place. While high-tech in nature, dental implants are actually more tooth-saving than traditional bridgework. This is because implants do not rely on neighboring teeth for support.
Dental Implants are permanent replacements for missing teeth. They look and feel so much like natural teeth, patients usually forget they're not!
Dental implants not only create a winning smile, but more importantly have significant functional benefits to overall good health. People with dentures or loose and missing teeth can have restricted diets. Biting into fresh fruits and vegetables is often not only difficult, but also painful. Dental implants are so secure that the patients don't even think twice about biting into a crisp apple. Cosmetic dentistry is not solely for appearances. If you find yourself avoiding crunchy fresh fruits or vegetables because of missing teeth, consider dental implants for improvement of overall health and wellness.
Credentials, training, testing and experience make a big difference!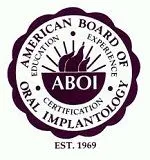 Have you ever wondered who is most qualified to be doing implant surgery in order to create a beautiful, functional and long lasting smile?
The American Board of Oral Implantology is a credentialing board dedicated to certifying only the most knowledgeable, skilled and best trained dentists in Implant Dentistry. If a dentist passes their rigorous requirements and examinations, they may become "Board Certified" by the ABOI, one of the highest honors a doctor can achieve in Implant Dentistry.
Dr. Hughes became board certified by the ABOI in 2012.
Dr. Hughes is also a member and Fellow of the American Academy of Implant Dentistry. The AAID is another organization for dentists dedicated to the advancement of the art and science of implant dentistry. Becoming a Fellow in the AAID also involves a lengthy process of extensive training and testing implant dentistry. Dr. Hughes became a Fellow of the AAID in 2013. Dr. Hughes early implant training in 2003-2004 was through the New York University (NYU) Dental Implant Maxicourse in Manhattan, New York. He also received an additional year of one on one training with Dr. Hilt Tatum in 2009-2010. A world renowned Implant Dentist, Dr. Tatum has pioneered many of the advancements in implanting over the past 40 years.
To find out more about our Dental Implants, call our Herrin, IL office today!
(618) 993-3100