All-On-4 Dental Implants Offer Patients a Lasting Solution to Tooth Loss
Whether due to decay or injury, an estimated 35 million Americans are completely edentulous, meaning they do not have any teeth, according to the American College of Prosthodontists. While dentures are a traditional tooth replacement method, Dr. Hughes offers another option at The Hughes Dental Arts Centre in Herrin, IL: All-On-4 dental implants.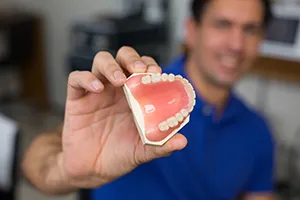 To understand All-On-4 dental implants, it's important to first consider a single dental implant. The implant itself is made of titanium and is surgically implanted into the jaw to act as an anchor and artificial tooth root. Placed over this implant is an abutment or connector. Topping the abutment and implant is a dental crown custom-made to resemble your surrounding teeth. The result is a tooth that is secure, permanent and natural looking.
What is All-On-4 Dental Implants?
Dr. Hughes's All-On-4 dental implant expands the concept of tooth replacement from a single tooth to an entire upper or lower set of teeth. This means instead of dentures, you can replace an entire set of teeth with dental implants that do not require daily removal, denture adhesive or denture cleaning.
True to its name, the All-On-4 dental implant option involves placing four dental implants in strategic locations in the jawbone. With just four dental implants, Dr. Hughes can create a custom denture that snaps on over the dental implant.
Prior to the creation of All-On-4 dental implants, anywhere from six to eight dental implants were used to replace an entire dental arch. The All-On-4 approach dramatically cuts down this amount while still securely maintaining your replacement teeth.
The Benefits of All-On-4 Dental Implants
Many benefits exist to All-On-4 dental implants when compared to traditional dentures. These include not having to remove and re-adhere your dentures on a daily basis because the dental implants firmly anchor the tooth replacements. Because the implants are so firmly in place, chewing forces are increased by as much as 70 percent. This means foods you wouldn't be able to eat with dentures are not off-limits to you when wearing dental implants.
As an added benefit, dental implants prevent jawbone loss that can traditionally occur after losing a tooth. Jawbone is a use-it-or-lose-it substance. If your tooth roots are not anchored in the bone, it can start to recede. As a result, your face shape and overall appearance can change.
Dr. Hughes is a leader in the field of All-On-4 dental implant placement. He has completed many All-On-4 dental implant cases, including in patients that would have previously been deemed inoperable due to pre-existing conditions. His expertise in this field makes him a highly sought after Herrin, IL dentist.
For more information on All-On-4 dental implants at The Hughes Dental Arts Centre , please call (618) 993-3100 .