Dental Implants

A dental implant is an artificial tooth root placed into the jaw to hold a tooth, group of teeth or denture in place. While high-tech in nature, dental implants are actually more tooth-saving than traditional bridgework. This is because implants do not rely on neighboring teeth for support.
Dental Implants are permanent replacements for missing teeth. They look and feel so much like natural teeth, patients usually forget they're not!
Dental implants not only create a winning smile, but more importantly have significant functional benefits to overall good health. People with dentures or loose and missing teeth can have restricted diets. Biting into fresh fruits and vegetables is often not only difficult, but also painful. Dental implants are so secure that the patients don't even think twice about biting into a crisp apple. Cosmetic dentistry is not solely for appearances. If you find yourself avoiding crunchy fresh fruits or vegetables because of missing teeth, consider dental implants for improvement of overall health and wellness.
Credentials, training, testing and experience make a big difference!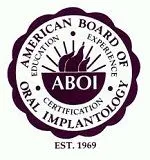 Have you ever wondered who is most qualified to be doing implant surgery in order to create a beautiful, functional and long lasting smile?
The American Board of Oral Implantology is a credentialing board dedicated to certifying only the most knowledgeable, skilled and best trained dentists in Implant Dentistry. If a dentist passes their rigorous requirements and examinations, they may become "Board Certified" by the ABOI, one of the highest honors a doctor can achieve in Implant Dentistry.
Dr. Hughes became board certified by the ABOI in 2012.
Dr. Hughes is also a member and Fellow of the American Academy of Implant Dentistry. The AAID is another organization for dentists dedicated to the advancement of the art and science of implant dentistry. Becoming a Fellow in the AAID also involves a lengthy process of extensive training and testing implant dentistry. Dr. Hughes became a Fellow of the AAID in 2013. Dr. Hughes early implant training in 2003-2004 was through the New York University (NYU) Dental Implant Maxicourse in Manhattan, New York. He also received an additional year of one on one training with Dr. Hilt Tatum in 2009-2010. A world renowned Implant Dentist, Dr. Tatum has pioneered many of the advancements in implanting over the past 40 years.
Of all the ways modern dentistry has to replace missing teeth, dental implants are by far the best. There is no tooth-replacement option that will give you a longer-lasting result. Implants also help preserve tooth-supporting bone that naturally deteriorates when a tooth is lost. Loss of bone is one of the major hidden consequences of losing teeth.
A dental implant most often takes the form of a small, screw-shaped titanium post that replaces the root-part of a missing tooth. The surgical procedure used to place an implant is actually quite minor and routine, requiring only local anesthesia in most cases. After a healing period, the implant is topped with a lifelike crown custom-made to match your existing natural teeth. Implants have a documented success rate of over 95%, which is significantly higher than any other tooth-replacement option.
How Implants Work
During a minor surgical procedure done in the dental office, your dental implant is inserted directly into the jawbone in the space vacated by the missing tooth. We schedule about 45 minutes to an hour to place one implant but much less time is required for additional implants. Initially, time is spent reviewing medical history, taking your blood pressure and providing you with the proper anesthesia. Any postoperative discomfort can normally be managed with over-the-counter pain relievers. Your implant will then be left to heal for a period of months before the final crown is attached. During this healing period, the implant actually fuses to the bone surrounding it. We use implants made by the BioHorizons company because of the technological innovations they have made to ensure the best possible healing, success rate and final result. Learn more about how dental implants work.
Dental Implant Treatment Options
You'll be amazed to learn more about the variety of ways dental implants can be used to replace one tooth, multiple teeth or even all teeth in your mouth. Implants are so strong, they can support bridgework or a fixed denture, meaning a full row of teeth (top or bottom) can be anchored by as few as four implants. And as few as two implants can be used to stabilize a lower removable denture so it won't slip while you're eating or speaking. Learn more about your dental implant treatment options.
Immediate Implants
If you need to have failing teeth removed, we may be able to place dental implants into the tooth sockets immediately after removing the teeth if circumstances allow. This has some definite advantages — the major one being that you will need just one surgical procedure rather than two. Depending on how many implants you received and where they are in your mouth, we also may even be able to give you a temporary dental crown or a set of temporary teeth to wear during this healing phase. That way, you will not only walk out of the dental office with new implants, but possibly new teeth as well! But please be assured that we will not rush anything; if your unique situation requires us to allow more healing time and to finish your new teeth in stages, that is what we will do. Learn more about immediate implants.
Computer-Guided Implant Surgery
Computer-guided implant surgery can result in a shorter implant-placement procedure with minimal discomfort and a very precise result. A three-dimensional CT (computed tomography) scan of your jaw is used to create a template that resembles a nightguard or athletic mouthguard with holes in the plastic where the implants will go. This template is securely (but temporarily) fixed in position on the jaw to provide a precise guide for the placement of the implants. Since so much has been worked out in the planning stages, computer-guided implant surgery is typically uneventful for the patient and very predictably achieves the desired result. Learn more about computer-guided implant surgery.
Implant Care and Maintenance
There are only two ways an implant can lose attachment to the bone and fail once it has successfully fused: poor oral hygiene or excessive biting forces. Poor oral hygiene and/or a lack of regular cleanings can lead to a destructive bacterial infection called peri-implantitis. Flossing and brushing your teeth on a daily basis, along with regular professional cleanings, can prevent this. Excessive biting forces can come from either a habit of clenching or grinding your teeth, or an insufficient number of implants to handle the forces generated by your bite. We will make sure you receive the correct number of implants so this does not happen. And if you have a habit of grinding or clenching your teeth, we will recommend wearing a nightguard to protect your implants. After all, implants are a long-term investment in your smile, your health and your well-being, so let's do our best to protect your investment.
Think Dental Implants are right for you? Contact Hughes Dental Arts Centre at (618) 993-3100 to schedule a consultation. Call our Herrin, IL dental office a call today!
Related Articles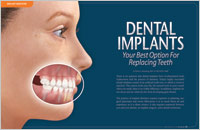 Dental Implants – Your Best Option For Replacing Teeth Dental implants have many advantages over older methods of tooth replacement like bridges and dentures — from the way they function and feel to the way they look and last. Vigorous research has documented and confirmed that in the right situations, dental implant success rates are over 95%. It is no exaggeration to say that they have revolutionized dentistry. They may even change your life... Read Article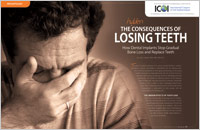 The Hidden Consequences of Losing Teeth For those missing even one tooth, an unsightly gap is actually the least significant problem. What's of far greater concern is the bone loss that inevitably follows tooth loss. Dental implants can preserve bone, improve function and enhance psychological well-being. Learn how implants serve both as anchors to support replacement teeth and preserve bone... Read Article